Click on a image...


Binghamton, NY


Montague, NY


Buffalo, NY


State College, PA


Albany, NY


Burlington, VT


Northeast
Pennsylvania Severe Weather Awareness Week-March 3-7, 2014 «Read More»
NWS Binghamton Seeks Students for Summer Internship Opportunities «Read More»
Latest SKYWARN training information «Read More»
Local Storm Reports
Click on the map below for the latest storm reports.

SPC Outlooks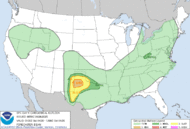 Day 1
Day 2
Day 3
Move mouse over "Day #" to see more. Click on "Day #" link for a larger view.