July 2010
North Country Monthly Climate Summary
TEMPERATURE SUMMARY...

July was a very warm month across the North Country, with many locations' average monthly temperatures running some 2 to 3 degrees above normal. The first couple of days of July were on the cool side, but this quickly changed as a much warmer and more humid airmass slid over the region. By July 5, high temperatures soared into the lower and mid 90s, with some locations approaching 99 degrees. The high dewpoints kept overnight temperatures well above normal, generally in the upper 60s to lower 70s. Although conditions cooled down a bit on July 10, temperatures remained above normal much of the rest of the month. It wasn't until July 29 that the heat came to an end, when cooler, drier air finally worked into the region. With highs in the lower to mid 70s and lows in the 40s (some 30s in the Northeast Kingdom and Northern Adirondacks), July finished with a stretch of below-normal temperatures.

TEMPERATURE STATISTICS ACROSS THE NORTH COUNTRY FOR THE MONTH OF JULY...


| | | | | |
| --- | --- | --- | --- | --- |
| | Burlington | Montpelier | Massena | Saint Johnsbury |
| Avg. Temp | 73.5 | 69.9 | 72.3 | 70.7 |
| Departure | +2.9 | +2.6 | +2.5 | +1.9 |
| Highest | 96 on 8th | 92 on 7th | 93 on 6th and 8th | 93 on 7th |
| Lowest | 48 on 31st | 43 on 31st | 44 on 31st | 46 on 2nd and 31st |

Below are daily temperature graphs for the month of July for Burlington, Montpelier, Massena, and Saint Johnsbury.


Click to enlarge



PRECIPITATION SUMMARY...

Although some locations did see abundant rainfall, July was a dry month for across much of Vermont and northern New York. In general, northern areas of the region saw monthly rainfall totals below normal, while a few select locations in the Adirondacks of New York and southern Vermont received plenty of precipitation. In the north, monthly rainfall was mainly in the 2 to 4 inch range, which is some .5 to 2 inches below normal for this time of year. Meanwhile, places such as Saranac Lake, Chelsea, Brookfield, and Chittenden saw 5 to 7 inches, with locally higher amounts. Much of this heavy rainfall came later in the month, especially on the 21st, when a round of severe weather struck the North Country. Many locations in the Adirondacks and especially the along and east of the Green Mountains saw 1.5 inches of rain this day, with some places reporting over 2.5 inches.

PRECIPITATION STATISTICS ACROSS THE NORTH COUNTRY FOR THE MONTH OF JULY...


| | | | | |
| --- | --- | --- | --- | --- |
| | Burlington | Montpelier | Massena | Saint Johnsbury |
| Monthly Total " | 2.25 | 2.62 | 3.14 | 3.41 |
| Departure | -1.72 | -0.64 | -0.21 | -0.43 |
| Greatest 24hr | 0.72 on 9th-10th | 0.65 on 21st | 0.91 on 13th | 1.59 on 21st-22nd |
| SNOW/SLEET | | | | |
| Monthly Total " | | | | |
| Greatest 24hr | | | | |
BURLINGTON FORECAST AREA ACCUMULATED MONTHLY PRECIPITATION (IN INCHES) FOR THE MONTH OF JULY
Click to enlarge




BURLINGTON FORECAST AREA ACCUMULATED MONTHLY SNOWFALL (IN INCHES) FOR THE MONTH OF JULY

MONTHLY WEATHER PATTERNS AND GLOBAL CLIMATE DRIVERS...

The main 500 MB weather pattern during the month of July consisted of stronger-than-normal high pressure across the eastern half of the Continental United States. Much of the first week was hot and humid as high pressure reigned at 500 MB. By the 7th, the 500 MB flow had flattened out and become west-to-east. This allowed several cold fronts to trek across the North Country through mid-July, bringing several rounds of thunderstorms with heavy rain, damaging winds, and large hail. Anomolously-strong low pressure set up across New England and eastern Canada for the end of the month, drying out the atmosphere and dropping temperatures below normal. This was especially true the 30th into the 31st, when many locations struggled to break out of the 60s during the day, while overnight lows dropped well into the 40s. Some spots even saw mid and upper 30s for lows the morning of the 31st.

The Climate Prediction Center is forecasting above normal temperatures for the month of August. Precipitation has equal chances of being above or below normal.

La Nina developed across the equatorial Pacific Ocean last month, as sea surface temperatures dropped throughout July. Temperatures were around 1 degree Celsius below normal. It is expected that the La Nina conditions will strenghten through the winter and last into early 2011. Impacts to the Northern Hemisphere from La Nina are usually weak in the summer and early fall, but should become more noticeable during late fall and winter. La Nina can contribute to increased hurricane activity in the Atlantic Ocean by decreasing wind shear.

CLIMATE PREDICTION CENTER AUGUST 2010 PRECIPITATION OUTLOOK...

Click to enlarge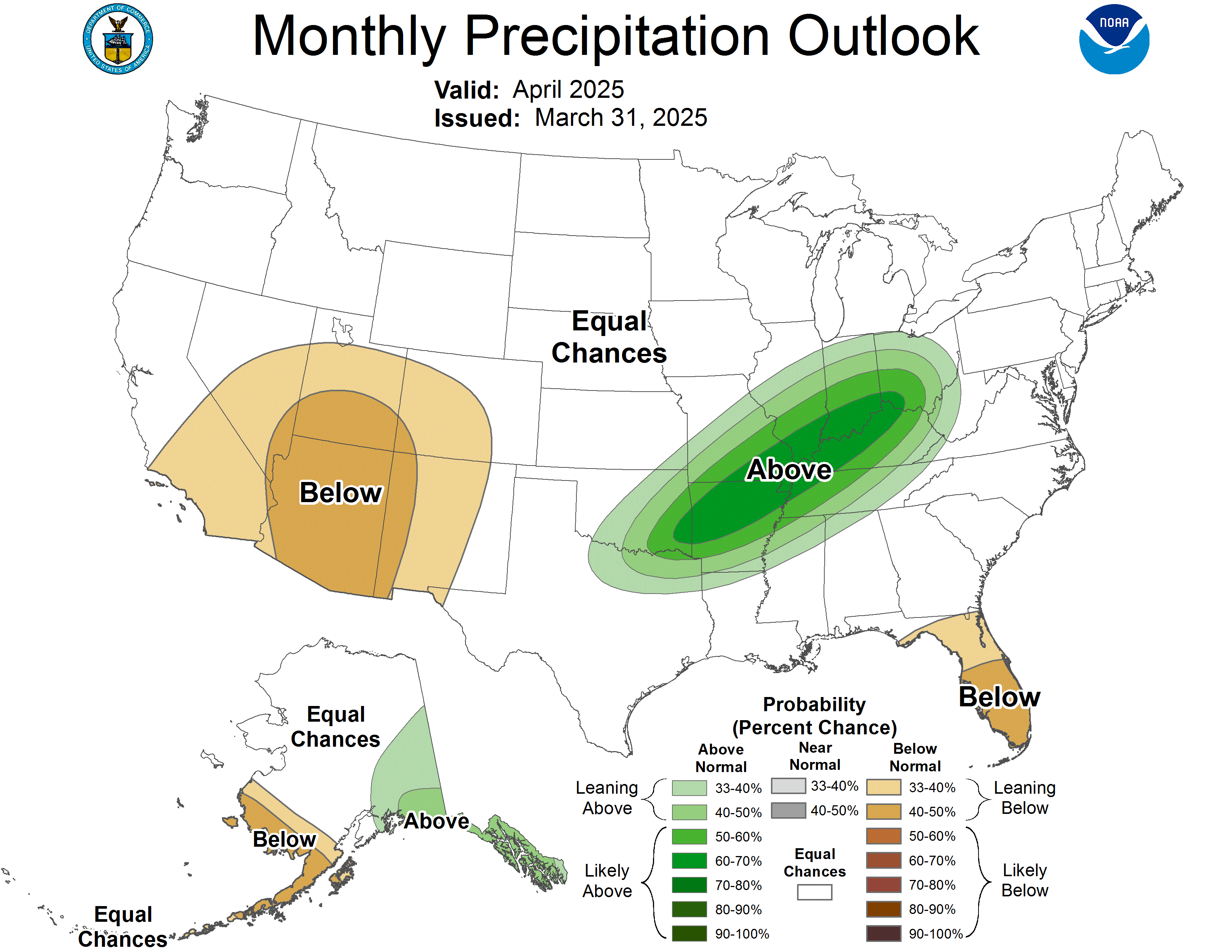 CLIMATE PREDICTION CENTER AUGUST 2010 TEMPERATURE OUTLOOK...