November 2009
North Country Monthly Climate Summary
TEMPERATURE SUMMARY...

NOVEMBER WAS A RELATIVELY MILD MONTH, ESPECIALLY TOWARD DURING THE LATTER HALF. ON AVERAGE, MONTHLY TEMPERATURES WERE 3 TO 6 DEGREES ABOVE NORMAL, WITH THE WARMEST READINGS IN THE CHAMPLAIN VALLEY AND CENTRAL VERMONT. SEVERAL RECORD HIGH DAILY TEMPERATURES WERE SET ACROSS THE NORTH COUNTRY DURING THE MONTH. MASSENA, NEW YORK, SET TWO SEPARATE RECORDS, REACHING 69 DEGREES ON NOVEMBER 9, AND 64 DEGREES ON NOVEMBER 15. MONTPELIER ALSO SET A RECORD FOR DAILY MAXIMUM TEMPERATURE, HITTING 68 DEGREES ON NOVEMBER 9. AS NOVEMBER CAME TO AN END AND DECEMBER APPROACHED, MANY LOCATIONS ACROSS THE REGION WERE STILL SEEING TEMPERATURES WELL ABOVE NORMAL, GENERALLY IN THE MID TO UPPER 40S.

TEMPERATURE STATISTICS ACROSS THE NORTH COUNTRY FOR THE MONTH OF NOVEMBER...


| | | | | |
| --- | --- | --- | --- | --- |
| | Burlington | Montpelier | Massena | Saint Johnsbury |
| Avg. Temp | 41.8 | 40.4 | 39.8 | 38.7 |
| Departure | +4.7 | +5.6 | +4.3 | +3.2 |
| Highest | 65 ON 9 | 69 ON 9 | 70 ON 9 | 64 ON 9 |
| Lowest | 22 ON 18 | 21 ON 13, 18 | 18 ON 12, 13 | 20 ON 13 |

BELOW ARE DAILY TEMPERATURE GRAPHS FOR THE MONTH OF NOVEMBER FOR EACH BURLINGTON, MONTPELIER, MASSENA, AND SAINT JOHNSBURY.


Click to enlarge



PRECIPITATION SUMMARY...

PRECIPITATION WAS HIGHLY VARIABLE DURING THE MONTH OF NOVEMBER, WITH SOME LOCATIONS OVER AN INCH DRIER THAN NORMAL, WHILE OTHER AREAS WERE ALMOST THREE-QUARTERS OF AN INCH ABOVE NORMAL. FOR THE MOST PART, THE HIGHEST RAINFALL AMOUNTS WERE IN THE CENTRAL AND SOUTHERN GREEN MOUNTAINS, ESPECIALLY ALONG THE SPINE IN WESTERN ORANGE AND WINDSOR COUNTIES, WHERE OVER 6 INCHES OF RAIN FELL. SOME OF THE HEAVIEST RAIN FELL IN THE MIDDLE OF THE MONTH, MAINLY ON THE 14TH. MANY STATIONS REPORTED OVER 1.5 INCHES OF RAIN THAT DAY, INCLUDING 1.74 INCHES IN BETHEL, 1.81 INCHES IN BROOKFIELD, AND 2.03 INCHES IN ISLAND POND. TWO SITES SET DAILY PRECIPITATION RECORDS ON THE 14TH; BURLINGTON REPORTED 1.14 INCHES, WHILE MONTPELIER RECEIVED 0.93 INCHES. NORTHERN NEW YORK SAW MUCH LIGHTER PRECIPITATION AMOUNTS DURING NOVEMBER, GENERALLY 3 TO 4.5 INCHES, WITH ISOLATED HIGHER AMOUNTS IN THE ADIRONDACKS. ONLY 1.72 INCHES OF RAIN FELL IN MASSENA DURING THE ENTIRE MONTH, WHICH WAS 1.31 INCHES BELOW NORMAL. IN PART DUE TO THE ABOVE NORMAL TEMPERATURES, SNOWFALL WAS VERY LIGHT ACROSS THE NORTH COUNTRY. MONTHLY SNOWFALL AMOUNTS WERE BELOW NORMAL, WITH LESS THAN AN INCH IN THE CHAMPLAIN AND SAINT LAWRENCE VALLEYS. SNOW ACCUMULATIONS WERE A BIT HIGHER IN THE ADIRONDACKS AND GREEN MOUNTAINS, GENERALLY 1 TO 2.5 INCHES.

PRECIPITATION STATISTICS ACROSS THE NORTH COUNTRY FOR THE MONTH OF NOVEMBER...


| | | | | |
| --- | --- | --- | --- | --- |
| | Burlington | Montpelier | Massena | Saint Johnsbury |
| Monthly Total " | 2.98 | 3.65 | 1.72 | 4.03 |
| Departure | -0.08 | +0.61 | -1.31 | +0.71 |
| Greatest 24hr | 1.14 ON 14 | 1.75 ON 14-15 | 0.57 ON 19-20 | 1.51 ON 14-15 |
| SNOW/SLEET | | | | |
| Monthly Total " | TRACE | | | 0.5 |
| Greatest 24hr | TRACE ON 30 | | | 0.5 ON 27 |

BURLINGTON FORECAST AREA ACCUMULATED MONTHLY RAIN GAUGE PRECIPITATION (IN INCHES) FOR THE MONTH OF NOVEMBER.


Click to enlarge



BURLINGTON FORECAST AREA ACCUMULATED MONTHLY SNOWFALL (IN INCHES) FOR THE MONTH OF NOVEMBER.

MONTHLY WEATHER PATTERNS AND GLOBAL CLIMATE DRIVERS...

THE MAIN WEATHER FEATURE FOR NOVEMBER WAS AN ANOMALOUSLY STRONG 500MB RIDGE. THIS AREA OF HIGH PRESSURE WAS LOCATED OVER THE WESTERN HIGH PLAINS AT THE START OF THE MONTH, PLACING THE NORTHEASTERN CONTINENTAL U.S. UNDER GENERALLY NORTH FLOW. AS A RESULT, TEMPERATURES WERE ACTUALLY A BIT COOLER THAN NORMAL FOR THE FIRST WEEK IN NOVEMBER. THIS CHANGED DRASTICALLY, HOWEVER, AS THE RIDGE SHIFTED EASTWARD, PEAKING OVER THE GREAT LAKES DURING THE MIDDLE OF THE MONTH, THEN MOVING OFF THE EAST COAST BY THANKSGIVING. AS A RESULT, THE NORTH COUNTRY SPENT MOST OF THE MONTH OF NOVEMBER IN MILD SOUTHWEST FLOW ALOFT. THIS KEPT TEMPERATURES ABOVE NORMAL ACROSS NEW YORK AND NEW ENGLAND. THE INFLUX OF MOISTURE ALSO RESULTED IN ABOVE NORMAL PRECIPITATION OVER MUCH OF THE AREA, AS WELL. HOWEVER, GIVEN THE WARM AIRMASS, PRECIPITATION FELL MAINLY AS RAIN, WITH JUST LIGHT SNOWFALL TOTALS REPORTED.

THE CLIMATE PREDICTION CENTER IS FORECASTING SLIGHTLY COOLER THAN NORMAL TEMPERATURES FOR THE MONTH OF DECEMBER ACROSS NEW YORK AND MUCH OF ADJACENT NEW ENGLAND. PRECIPITATION LOOKS TO BE CLOSE TO NORMAL THROUGH THE REMAINDER OF 2009.

EL NINO STRENGTHENED FROM OCTOBER TO NOVEMBER 2009, AS SEA SURFACE TEMPERATURES WARMED TO 1.7 DEGREES CELSIUS ABOVE NORMAL. THIS PLACES EL NINO AT MODERATE STRENGTH. AT THIS TIME, IT APPEARS THAT EL NINO WILL AT LEAST REMAIN AT MODERATE STRENGTH FOR THE NEXT FEW MONTHS. HOWEVER, STRENGTHENING IS ALSO POSSIBLE. FOR THE UNITED STATES, A PERSISTENT EL NINO MEANS ABOVE AVERAGE PRECIPITATION FOR THE SOUTHERN PORTION OF THE COUNTRY, WITH DRIER CONDITIONS EXPECTED IN THE PACIFIC NORTHWEST AND THE OHIO AND TENNESEE VALLEYS. BELOW AVERAGE SNOWFALL AND WARMER THAN NORMAL TEMPERATURES ARE LIKELY ACROSS THE NORTHERN STATES, EXCLUDING NEW ENGLAND, WHICH WILL REMAIN CLOSE TO NORMAL FOR THE REST OF THE WINTER.

CLIMATE PREDICTION CENTER NOVEMBER 2009 PRECIPITATION OUTLOOK...

Click to enlarge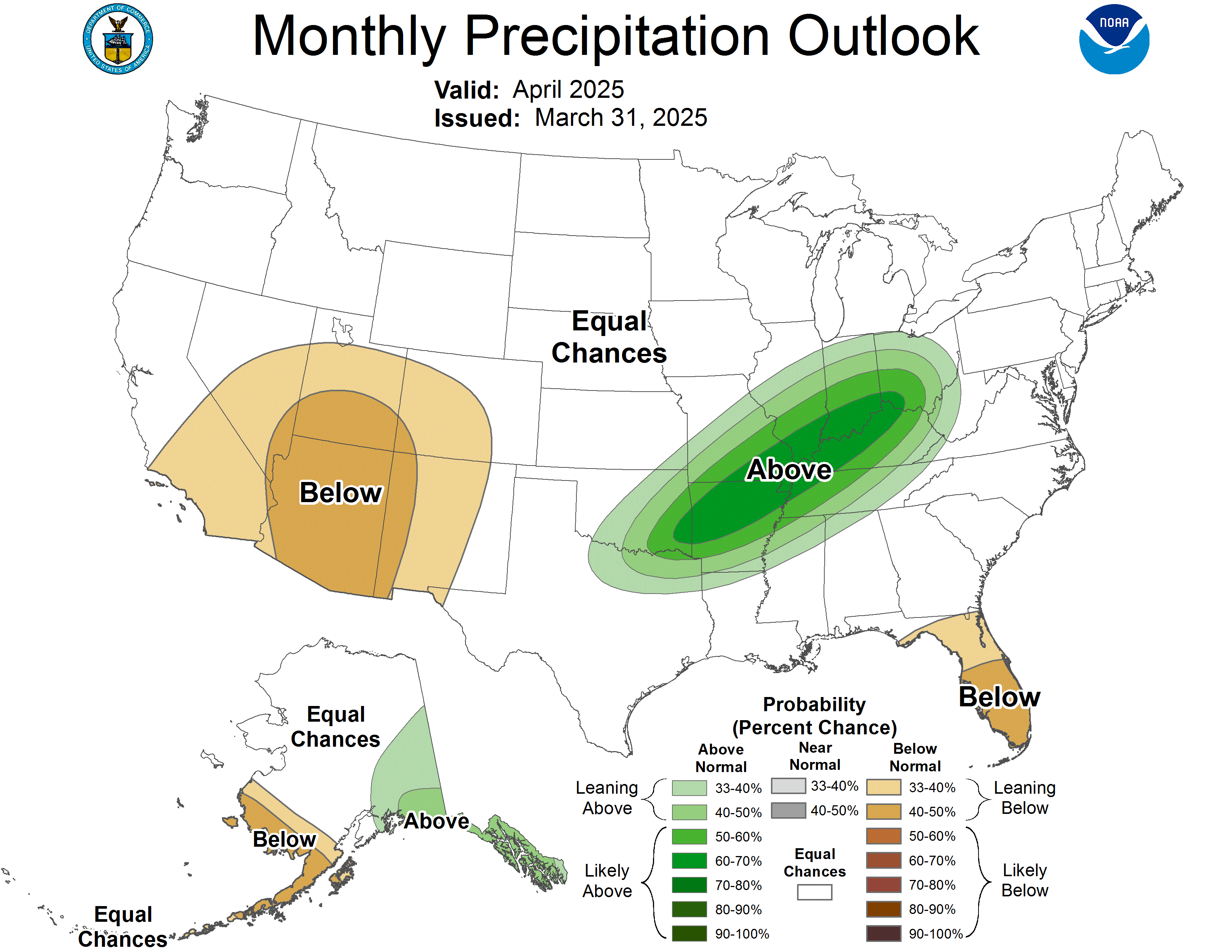 CLIMATE PREDICITION CENTER NOVEMBER 2009 TEMPERATURE OUTLOOK...